Rainbow Australia (trading as Aqua Technologies Int. Pty Ltd) is an authorised and registered distributor of the world renowned Rainbow Cleaning System.
The Rainbow Cleaning System is the only vacuum cleaning system that is approved by the American Asthma Association.
What sets the Rainbow Cleaning System apart from other vacuum systems is the patented water filtration system which prevents dust from being vacuumed up and dispersed through your home.
Every particle is captured in a water bowl which at the end of your vacuuming, the soiled water is poured down the drain, the bowl rinsed and is ready and available for the next cleaning.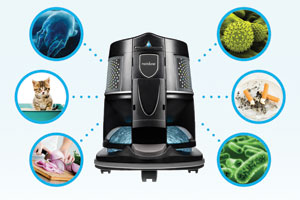 Our expert demonstrators can make an appointment with you to demonstrate the Rainbow Cleaning system in your home. Even if you have just finished vacuuming, you will be astonished by what the Rainbow will pick up, filter and not release a speck of dust into your home environment.
The benefits of the Rainbow Cleaning Systems are –
A cleaner home
A healthy home environment
Greatly reduced irritation to suffers of hay fever and asthma
To arrange for a no obligation home demonstration, please click here and complete the form shown.